Buyer Resources

Go To:
Real Estate Market Health
These numbers are for Ada and Canyon County.
The PTC Index this month posted the second-highest register at 356 points signaled sustained growth and a robust summer activity. Building permits posted an 18 percent decline over the prior month; permit filings are down by 33 percent from a year ago. New home sales, however, remained steady from May to June with 411 units sold – an increase of 15 percent from a year ago.
Existing home sale volume remained relatively unchanged from the month prior as well and are down nearly seven percent from a year ago. The Days on Market average for June was 26 days which is one of the most constrained inventory months in recent memory. Low inventory is without a doubt one of the major reasons for the little change in activity in the existing home and new home sale sectors. Refinance activity posted 952 filings which is a decline of nearly 18 percent from the month prior due to the continued increases to the financial bond. However, refi activity is still 41 percent from a year ago. A major increase this month was the average Ada/Canyon sales price. With a boost of nearly six percent, the average is the highest ever since we began the PTC Index settling at $307,712 – an increase of over 17 percent versus June 2017.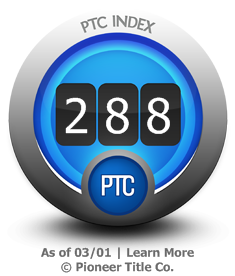 << previous page
next page >>